If you are tired of getting unsatisfying outcomes from your social media strategy, don't settle for less. With our Social Media Marketing (SMM) services, we assure you that every penny you spend on an SMM campaign will generate the lucrative outcomes you wanted. Our SMM agency has broad experience running social media campaigns, helping you achieve your goals and reach the target audience.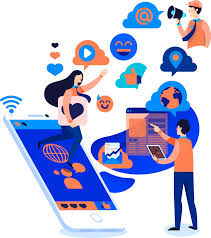 What is Social Media Marketing (SMM)?
Social Media Marketing (SMM) services help businesses with brand and product promotion on social media platforms. These services are used by businesses that lack the personnel or expertise to produce effective content but want to keep customers engaged.
At Webroot Technologies, we provide a wide range of SMM solutions, including content creation, account management, and consumer engagement. Other than keeping customers engaged with our SMM services, we help businesses engage broader online communities and boost their online presence. As SMM is implemented to improve the search engine ranking of websites, at Webroot Technologies, we also provide SEO services and optimize social media content to improve ranking.
SMM Platforms we Serve
At Webroot Technologies, we take care of your social presence across various sites such as Facebook, YouTube, Instagram, Twitter, Linked In, Google+, Quora, and Twitter. We create eye-catchy posts using relevant keywords that keep your visitors engaged and interested in your services to ensure maximum visibility. We add sales angles to these posts with call-to-action and hard-hitting messages which are more informational, friendly, and casual.
Pocket-Friendly SMM Packages
In today's competitive market, we understand that every agency is providing affordable SMM services. However, it doesn't mean that they will provide you with quality services that bring results. Our SMM packages are not only affordable, but we ensure to maintain your social media presence. We custom design packages according to the business needs. The payment can be made monthly or quarterly. To know more about our packages, request a quote now!
Best SMM Company for your Business Marketing
At Webroot Technologies, we help you to take your business to new heights. We understand that keeping up with never-ending updates and new features is difficult, but we ensure to explore it to its full potential. We have a team of experts to create and implement social media strategies to create amazing content while optimizing it. When you outsource our reputable SMM agency, our experts take care of the groundwork, letting you reap the benefits. Get in touch with us today!