Learn Graphic Design
Graphic Design is the method of designing visual content to deliver information/ messages to the masses. Studied to be a sub-set of Communication Design, Graphic Design is used to create visual content using details such as photographs, colors, typography, illustrations, and icons. 
Considered to be an art form first used around 17,000 years ago to create cave painting, Graphic Design is now used for designing logos, the editorial design used in books, newspapers and magazines, advertising, product packaging, signage, and the likes. Graphic Designers often have complete freedom to create their content without limitations related to programming, resolution, or speed.
Broadly speaking there are the below-mentioned types of Graphic Design:
Visual identity graphic design

User interface graphic design

Motion graphic design

Publication graphic design

Packaging graphic design

Marketing & advertising graphic design

Environmental graphic design

Art and illustration 
Candidates who want to start a career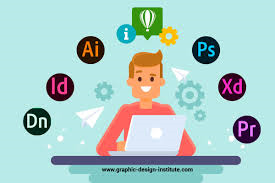 in Graphic Design can pursue a course in this design specialization at the undergraduate or the postgraduate level. Although age is just a number. Some of the top colleges that offer Graphic Design courses to aspirants include the National Institute of Design (NID), Pearl Academy, etc.
On completion of a Graphic Design course, one can grasp a job as a Graphic Designer, Picture Editor, Design Manager, Teacher/ Lecturer, etc. 
Syllabus for Graphic Design
Graphic Design course curriculum alters from college to college as well as course to course. Candidates aspiring to pursue a Graphic Design course at Webroot Technologies would be studying some or all of the below-mentioned topics in their course.
Introduction to Graphic Designing

Shaping, Design & Illustration

Typography

Graphic Designing Softwares & Tools

Image Layout & Effects

Photoshop

Corel Draw

Illustrator

InDesign

HTML/ Javascript

Adobe Dreamweaver

Adobe Flash

Adobe Audition

Computer Fundamentals

Art & Visual Perception

Vector Graphics for Designers